Brandon Cole Margera
Bam was born on 9/28/79. He currently lives in West Chester, Pennsylvania. He is a pro skater and used to skate for Toy Machine but left them and now is skating for Element. He is sponsored by Element, Electric, Spitfire, Volcom and Adio. He has been skateboarding since 1988. Bam's favorite skaters are Boulala, Penny, Maldonado, Getz, Saari, and Hoof. His favorite bands are Depeche Mode, CKy, Atrocity, Anethema, HIM, Iron Maiden, and Death Metal. His interests include skateboarding and filming. Bam's favorite food is toasted everything bagel w/ mayo, lettuce and tomato. His favorite movies are Good Will Hunting, Mall Rats, Fost Boys, Robin Hood "Men In Tights". Bam hates Tod Swank and he likes his S4 and A4, hoofs gear, and FDR Park. He has a girlfriend named Jenn Rivell and they have been together for awhile. Bam drives a bright blue 2000 Audi. Before Jackass Bam made the skate/stunt movies "Jump off a Building" "Landspeed Cky" "Cky2k" "Cky3" "Cky4" and has just released "Haggard" All about how pathetics Ryan Dunn is!
HE HATES TOD SWANK CAUSE:
"He is the owner of a company that released the original CKY landspeed video back in 1999. Somehow he mustered up the idea that he didnt need to pay Bam for toy machine board sales, fingerboard sales, landspeed wheel sales, and he also thought he didnt need to pay Bam or the CKY crew/band for selling our movie. We are still waiting for the court date of that lawsuit to go down. That dude is a joke."
Jess Margera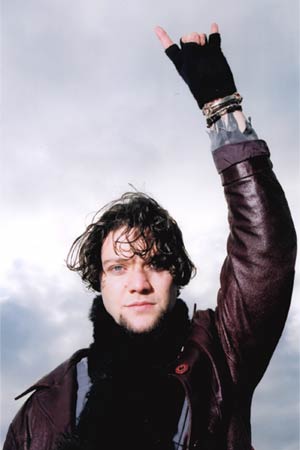 Facts

Bam Margera:
Real Name:Brandon Cole Margera
DOB:9/28/79
Home:West Chester,Pa
Hair:Black
Eyes:Blue
Official Site: www.Bamargera.com
Professional Skater,Makes CKY2K Movies
Family's Miny Facts

Bams mom and dad (phil and april) regulary appear, Phil is usually getting abrubtly woken up or being beaten up. April is usually in on some jokes but has been embaressed countless times by Raab himself being naked in their 'neighbourhood'. Bams brother Jess is also in many shows and is usually at the recieving end of Bams fists!